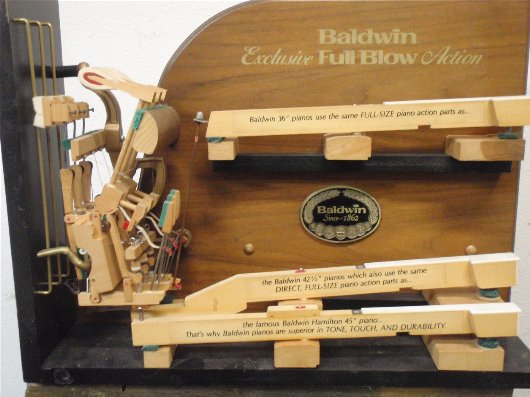 Keytops ........ break, chip, fall off, become discolored and need to be replaced on some pianos. Keeping the old ivory isn't advised unless they are in perfect condition. A piano that has a good looking keyboard is not only worth more, but is a pleasure to look at and play. Typically keytops can be replaced for around $350, including parts.
Hammers ........ get flat spots with usage. The hammer hits the string in the exact same place every time, and after a while develops a flat spot with string cuts. If the string cuts are deep enough the tone produced is more of a percussive knock than a musical tone. The hammers at the top of the scale are covered with only about a quarter inch of felt so that's where the string cuts sometimes reach the wooden core of the hammer. Reshaping the hammer may restore the tone of the hammer for a while, but eventually they will have to be replaced. The cost of new hammers varies from one piano to the next, depending on wheather it's a grand or vertical, replacement sources, and how much wear on other parts is present.
Dampers ......... become compressed with age and are then less effective in dampening the tone after the note is released. I've seen some old damper felt mushroom out from the wooden damper head to the point that it rubs the note next door. Spilled liquids that have soaked into the damper felt sometimes cause the felt to become hard, producing a sound of it's own when it presses against the string on key release. The cost of replacing dampers or damper felt varies depending on how many need replacement, and the cost of supplies.
Pin Blocks .......... are not usually replaced on vertical pianos. They are replaceable on grand pianos and typically cost a minimum of $4500. Restringing a piano can be done without replacing the pin block, but only if the pin block is in good enough condition to accept the oversized tuning pins. Each piano is different, so the cost varies.
Soundboard replacement ........ isn't cost effective on most pianos. The larger the piano, the more cost effective it is.
Refinishing ............. is getting to be more and more expensive. Finding a refinisher who hasn't succommed to the fumes of the trade is getting to be more and more of a challenge. Currently the cost starts at around $7000, including pick up and delivery.